As parents, teachers, family members or mentors, we help pave the way for the generations behind us. Whether we know it or not, we are influencing kids who will grow up and contribute to our society, so why not teach them respect and acceptance?
In honor of Black History Month, we have compiled a list of books for children of all ages that focus on race, history, struggles, achievements and more. Through the power of storytelling in these books, you can facilitate important conversations with younger generations and promote opportunities for learning and appreciation of diverse backgrounds.
All of these books can be purchased on Amazon or at local bookstores:
Picture Books for Young Children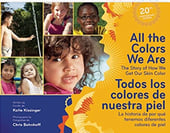 All the Colors We Are: The Story of How We Get Our Skin Color
By Katie Kissinger
A bilingual book to begin conversations about children's identities and what they love about themselves. The book teaches children why people have different skin tones and the role that people's location and their ancestors' location play in that.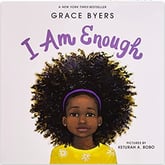 I Am Enough
By Grace Byers
A lyrical story about a Black girl making her presence known in the world. The story celebrates the things that make people different and wonderful. From the cover to the end, the book is humanizing and showcases strength and empathy.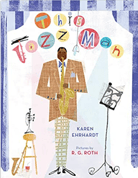 This Jazz Man
By Karen Ehrhardt
Music and dance are great themes to explore during Black History Month. Preschoolers will love this toe-tapping, finger-snapping tribute to African American jazz giants, set to the rhythm of the classic children's song "This Old Man."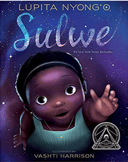 Sulwe
By Lupita Nyong'o
Sulwe just wants to be beautiful and bright, like her mother and sister. Then a magical journey in the night sky opens her eyes and changes everything. A whimsical and heartwarming story to inspire children to see their own unique beauty.
Books for First through Third Graders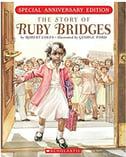 The Story of Ruby Bridges
By Robert Coles
The true story of an extraordinary 6-year-old who helped shape history when she became the first African American sent to first grade in an all-white school. This moving book captures the courage of a little girl standing alone in the face of racism.

When We Were Alone
By David A. Robertson
In this story, a Cree girl spends time with her kókom (grandmother) and learns how she held onto her family and culture while forcefully separated from her people.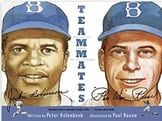 Teammates
By Peter Golenbock
This book takes us back to 1947 when Jackie Robinson became the first African American player in major league baseball and forever left a legacy on the sport.
Josephine: The Dazzling Life of Josephine Baker
By Patricia Hruby Powell
An extraordinary portrait of the passionate performer and civil rights advocate, Josephine Baker, the woman who worked her way from the slums of St. Louis to the grandest stages in the world.
Books for Fourth Graders and Up
Harbor Me
by Jacqueline Woodson
A tale about six kids with different family struggles who are sent to their school's old art room for a weekly talk with one another. The middle-grade novel "brings in many aspects of the injustices black and brown people face," as these kids share their real problems.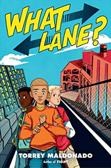 What Lane?
By Torrey Maldonado
Taking readers through the experience of what a Black boy says and feels as he grows bigger. It's a talk that helps us know what it means to be a Black male in the U.S. and paints a realistic picture of how young allies can help get racial justice.
Little Leaders: Bold Women in Black History
By Vashti Harrison
This beautifully illustrated New York Times bestseller introduces 40 women who changed the world to readers of all ages.

What Color Is My World?: The Lost History of African-American Inventors
By Kareem Abdul-Jabbar and Raymond Obstfeld
African American inventors had a hand in everything from the ice-cream scoop and the refrigerated food truck to cortisone cream and open-heart surgery. In this book, kids can learn about the great minds behind important inventions and scientific and medical discoveries.
Books for Teens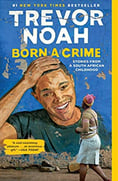 Born a Crime: Stories from a South African Childhood
by Trevor Noah
Late-night talk show host Trevor Noah tells the story of his childhood during apartheid in South Africa. Coupled with humor, teens will walk away with an understanding of the personal and societal complexities of race and racism around the world.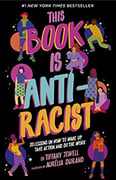 This Book is Anti-Racist
By Tiffany Jewell and Auriela Durand
A thoughtful, guided breakdown of what racism looks and sounds like, what it means to be anti-racist and 20 lessons on how young people can take action and ensure a more just future.

Into the Streets: A Young People's Visual History of Protest in the United States
By Marke Bieschke
This book explores the history of protests—peaceful and violent—throughout time in the U.S. It includes those who drive those protests and what the outcomes were. An outstanding reminder of how protests have shaped policy and reform in this country.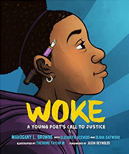 Woke: A Young Poet's Call to Justice
By Mahogany L. Browne, Elizabeth Azevedo, and Olivia Gatwood
Pairing poetry with beautiful art, this book is a reminder of the value of speaking up and speaking out. These are all poems by women about social justice, discrimination, acceptance and so much more.