In ancient China, there was a custom of offering and praying on days when odd numbers of 1, 3, 5, 7, and 9 overlap.
In Japan, it became an annual event like a festival during the Heian period (around 700-1000AD). It started as a festival where both men and women purified themselves enjoying Peach blossom. Peach means good luck and long life in China.
Later since May 5th was a celebration for boy's health and good luck, March 3rd became a festival wishing for girl's health, growth and happiness. As part of the celebration, dolls representing a royal wedding at an imperial palace play an important part.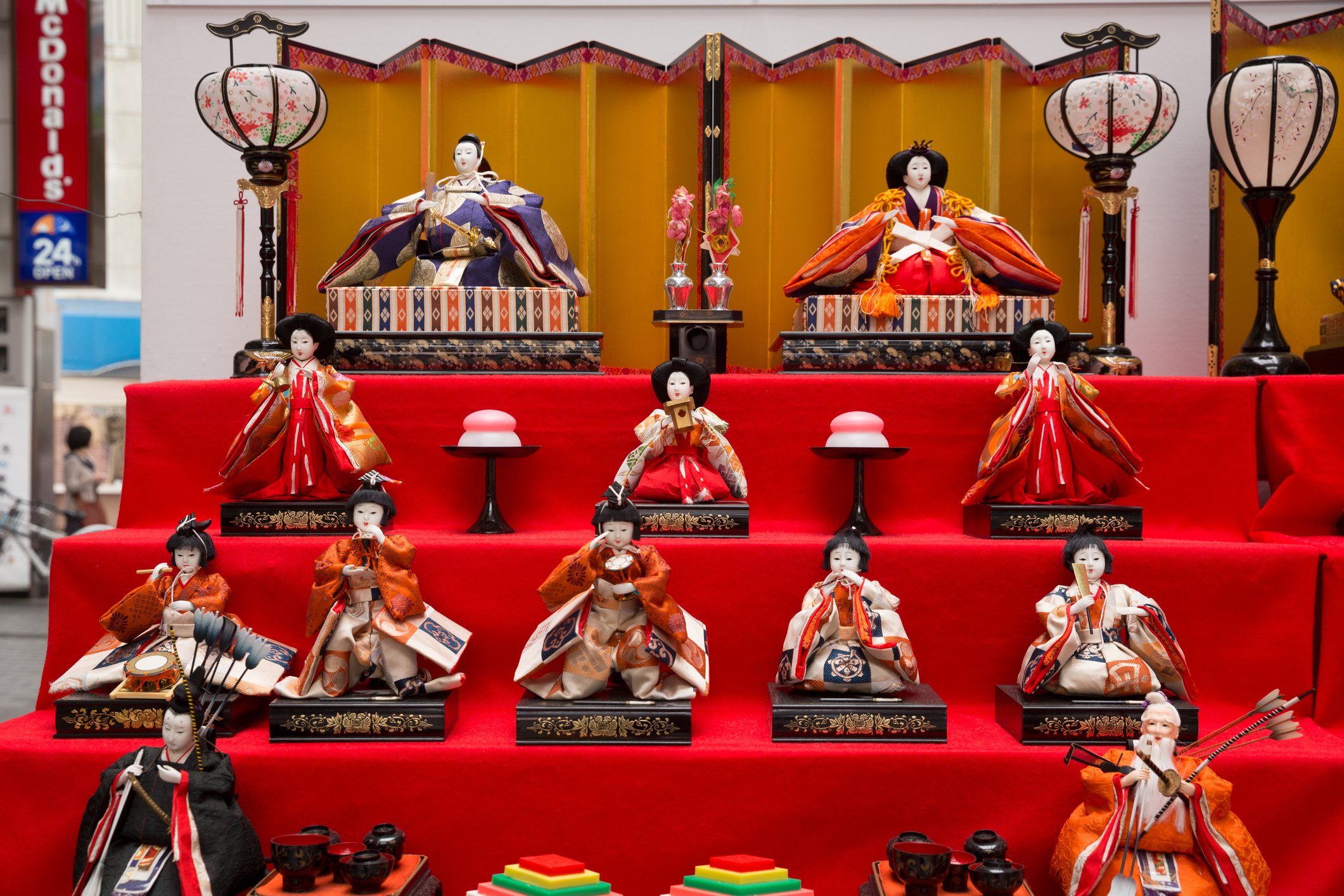 The Prince and Princess sit on top of the stairs followed by 3 female maids, 5 male bands, 2 guards, 3 male servants. If you are rich, you have all these 15 dolls with treasure boxes to store them in and even extravagant accessories like a carriage. You don't necessary need all 15 dolls, just the Prince and Princess, which are the most important dolls.
On March 3 we also eat some meaningful dishes with significance behind them like Chirashi Zushi, Sweet sake, diamond shaped mochi, rice puff and clam soup. For example, clams do not fit perfectly unless they are paired shells, they represent a happy couple who married each other for the rest of their lives. My family often ate Sakura mochi which is a pink colored cherry blossom flavored mochi since that was my favorite mochi.
Since Japanese did not have a custom for celebrating birthdays every year (it wasn't until 1945 that the law to count Western way of age was enacted) Doll's Day was a day that all girls got a special treat.
When I was a little girl, once a year, decorating those pretty dolls out of the box was very exciting and so much fun. It was just like Christmas.
++++++
そもそも古代中国の陰陽道では、1・3・5・7・9の奇数が重なる日に、お供えやお祓いをする風習があったのです。1月1日、3月3日、5月5日、7月7日9月9日などがそれです。
日本では平安時代(西暦700−1000年頃)年中行事のお祭りとして広まりました。元々は、中国の風習に倣って、3月3日の桃の花の咲く頃、男女問わず身を清め邪気払いをするものでした。桃は中国では幸運と長寿の象徴とされる縁起の良い植物でもあります。
後に5月の5日が男の子の健康と幸運を願う行事になったことから、3月3日は女の子の健康、成長と幸せを願うお祭りになっていきました。
飾られる人形は宮中の結婚式を表しています。お殿様とお姫様が最上段に座り、3人の侍女、5人囃子、右大臣と左大臣、3人の侍従の順で飾られます。お金持に余裕の有る方は、15体の人形に加えて、宝箱や、嫁入り道具,鏡台や家具、更には馬車まで小道具が飾られますが、15体全部ある必要はありません。一番大事なお殿様とお姫様さえあれば十分です。
ひな祭りには縁起の良い食べ物を食べます。ちらし寿司、甘酒、菱餅、ひなあられ、ハマグリのお吸い物などです。例えば、ハマグリは、上下を外して他のものと合わせようとしてもピタリとはまらないことから、一生涯添い遂げるという良い結婚を意味しています。我が家では、私の好物でもあったので、その日はピンクの色をした桜餅をよく食べました。
日本では、誕生日を祝うという習慣がなかったので(1945年に政府が年齢のとなえ方に関する法律を制定してから、一般的になったと言われています。)ひな祭りは女の子にとって、特別な日でした。小さな頃、一年に一度、箱から取り出して飾る雛人形は、まるでクリスマスのようにワクワクとしてとても楽しみな行事でした。