Prost!
Whether you're in Munich or at your local Oktoberfest celebration, you will hear this cheer as people consume Bavarian food and drinks during this lively festival.
The first Oktoberfest was celebrated over 200 years ago. It started as a multi-day wedding celebration for Prince Ludwig I of Bavaria and Princess Therese of Saxe-Hildburghausen, who later became King and Queen of Bavaria in 1825. From then on, Oktoberfest has been celebrated annually and has transcended into a 16 to 18-day, worldwide event.
This year, Oktoberfest runs Sep. 17 to Oct. 3, with the main festival still taking place in Munich, the Bavarian state capital in Germany. Recognized as the world's oldest, biggest, and longest party, more than 6 million people travel to Germany for this event each year.
Signature items to try include pretzels, bratwursts (German sausage), sauerkraut, an array of beers and other traditional beverages. Often, event goers will dress in traditional Oktoberfest attire, such as Bavarian lederhosen outfits and dresses known as dirndls. Over the course of the celebrations, events will include live music, dancing, parades, carnivals, beer gardens and many keg tappings, all around the globe.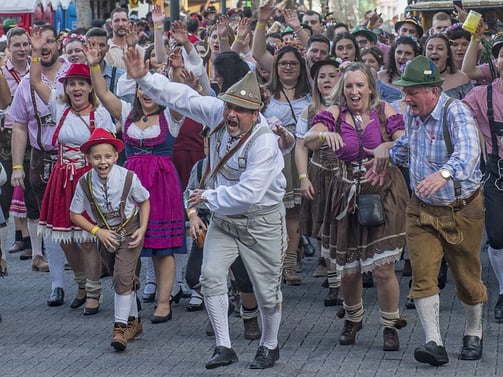 Wherever you are, every city and country celebrates Oktoberfest in their own manner, but most strive to keep the celebration authentic to the original traditions from Munich. It is a way to embrace and learn more about German culture, to honor the history and to link arms and dance, while enjoying delicious food and drinks.