From trailblazing activists and artists to visionary leaders and courageous individuals, the LGBTQ+ community has been shaped by remarkable people who have challenged norms, fought for rights, and inspired change. Their stories are powerful reminders of resilience, triumph, and the enduring pursuit of equality.
Below are six inspiring pioneers at the forefront of equality for all.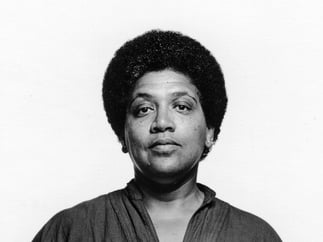 Audre Lorde
Audre Lorde, a groundbreaking poet, essayist, and feminist, left an everlasting mark on the LGBTQ+ community through their profound insights and unapologetic activism. As a queer Black woman, Lorde fearlessly addressed the inner workings of race, gender, and sexuality challenging societal norms and advocating for the empowerment of marginalized voices. Her writings, such as Zami: A New Spelling of My Name and Sister Outsider, became touchstones for LGBTQ+ individuals, offering support, validation, and a powerful call to action. Lorde's emphasis on self-expression, self-acceptance, and community-building continues to inspire generations, cementing her legacy as an influential figure in the LGBTQ+ movement and beyond.
Carl Nassib
Carl Nassib, a professional football player, has made a significant impact on the LGBTQ+ community through his courageous coming out as the first openly gay NFL player. By publicly embracing his sexual orientation, Nassib has provided visibility and representation for LGBTQ+ individuals in professional sports. His announcement has sparked conversations about inclusion, acceptance, and the need for more LGBTQ+ representation in sports. Nassib has not only empowered others within the community but also challenged stereotypes in the world of professional sports and is helping pave the way for a more inclusive and supportive environment for LGBTQ+ athletes.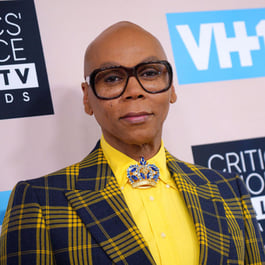 RuPaul Charles
RuPaul Charles, an iconic figure in the LGBTQ+ community, has promoted change and become a symbol of progression in the community through their multifaceted career and powerful advocacy. As a drag queen, singer, and television personality, RuPaul has shattered barriers and challenged ways of thinking, becoming a prominent symbol of self-expression and empowerment. Their unprecedented reality competition show, RuPaul's Drag Race, has captivated audiences worldwide and provided a platform for countless aspiring drag performers to showcase their talent and gain visibility. RuPaul's embrace of queerness, charisma, and self-love has inspired generations, fostering a sense of belonging and confidence within the LGBTQ+ community. Their impact extends far beyond entertainment as they continue to champion inclusivity, equality, and the celebration of individuality.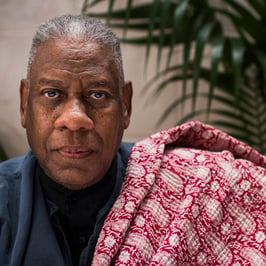 Andre Leon Talley
Andre Leon Talley is a fashion industry icon and prominent LGBTQ+ figure. As the former editor-at-large for Vogue magazine, Talley not only elevated fashion to new heights but also overcame adversity as one of the few openly gay men in the industry. His immense talent, impeccable style, and persistent presence have served as a source of inspiration and empowerment for LGBTQ+ individuals worldwide. Talley's influence extends beyond the realms of fashion, as he has used his platform to advocate for diversity, inclusivity, and representation, making significant strides in breaking down societal stereotypes. Andre Leon Talley has undoubtedly paved the way for future generations through his iconic career and unyielding authenticity.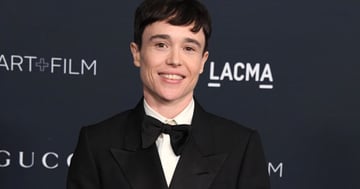 Elliot Page
Elliot Page, a talented actor known for roles in films like Juno and Inception, has profoundly impacted the LGBTQ+ community. In 2020, Elliot publicly came out as transgender, bravely sharing his authentic identity with the world. The announcement sparked conversations about gender identity, visibility, and acceptance, offering a source of inspiration for countless individuals. Using their platform to advocate for transgender rights and representation, Elliot Page has helped foster greater understanding and compassion towards the transgender community, paving the way for increased visibility and acceptance of gender-diverse individuals. Page's journey continues to resonate, reminding us of embracing one's true self and fighting for inclusivity for all.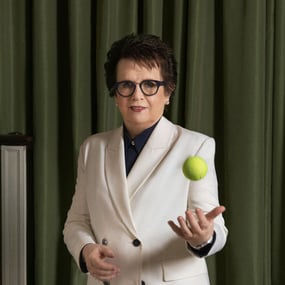 Billie Jean King
Billie Jean King is a legendary tennis player and LGBTQ+ activist. As one of the first openly gay athletes, King fearlessly fought for LGBTQ+ rights and gender equality, both on and off the court. Her iconic "Battle of the Sexes" match against Bobby Riggs in 1973 catalyzed the feminist movement, challenging gender stereotypes and highlighting the importance of equal pay. King's courage and dedication have inspired countless individuals and paved the way for greater acceptance and inclusivity in the sports world and beyond. Her unwavering commitment to social justice continues to make an enduring impact.
These iconic figures have been trailblazers in the journey toward visibility, equality, and acceptance. Through their resilience, advocacy, and sacrifices, they have shattered barriers, challenged discrimination, and transformed societal perceptions.